In the nonprofit world, it's a constant dilemma: How do you make a huge impact with a not-so-huge budget?
The answer: Work smarter, not harder.
It's possible. And you can do it all without burning the candle at both ends and ending up in the fetal position under your desk. (We know you're devoted to your cause. But you matter, too, and so does your staff.)
How do you work smarter, not harder? Get some Traction. EOS is a proven system that has helped thousands of companies do more with less.
Mile One helps organizations – both for-profit and nonprofit – become healthier, more aligned, and more focused. Like you, Mile One is passionate about making the world a better place, and about using smart business strategies to get there. You've got the vision. We have the tools to help you save the world. (Hey, saving the world is only naïve if you don't have the tools to do it.)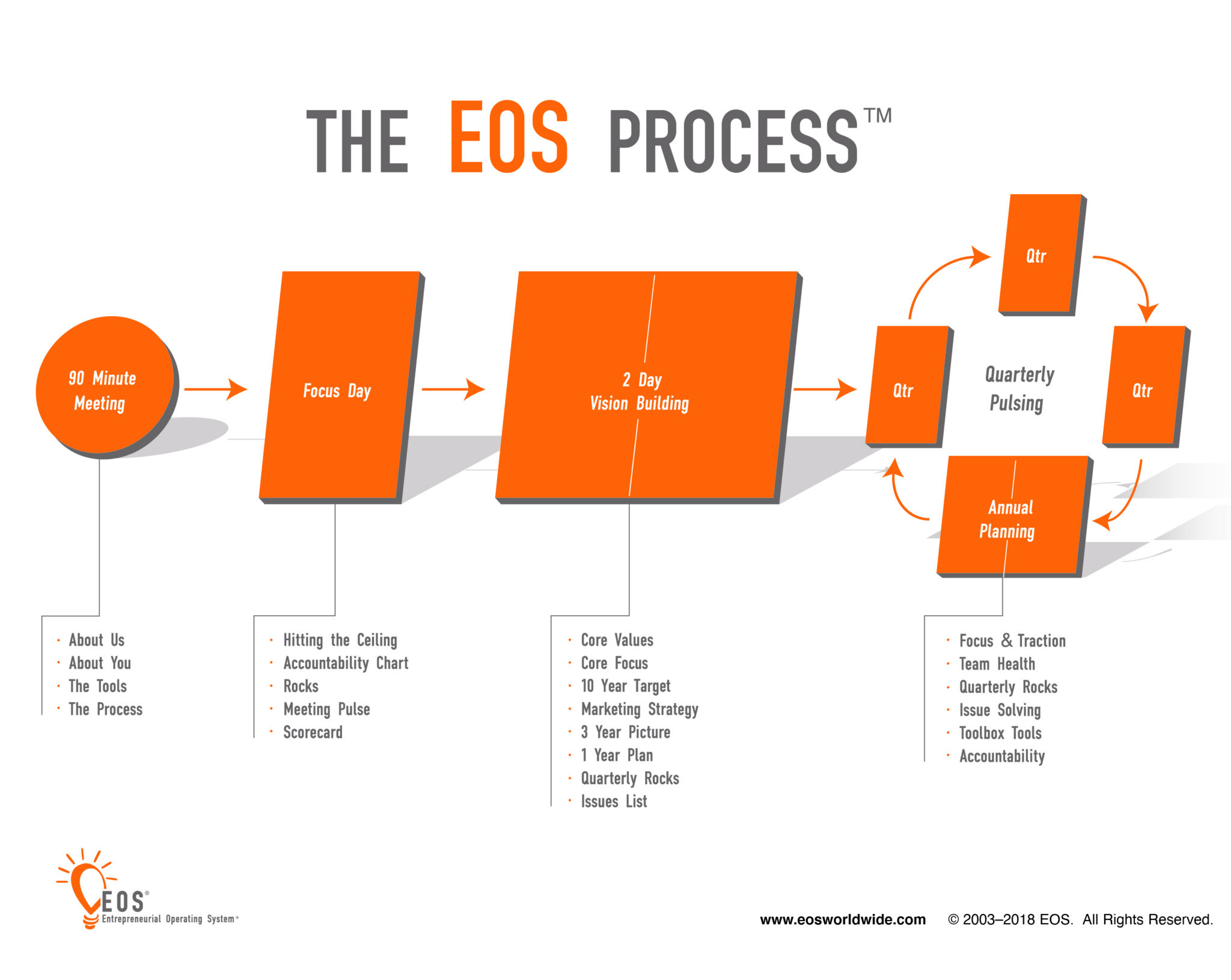 90 Minute Meeting

The 90 Minute Meeting is an Introduction to EOS, designed to help you and your team understand what Vision, Traction, and Healthy looks like for your organization.  At the conclusion of this session you will have all the information you need to confidently decide if both EOS and Mile One are the right fit for your organization.
Focus Day™

During the Focus Day, we will put in place the foundational tools that will be heartbeat of execution within your organization, including your accountability structure and quarterly priorities.  Your team will walk out with a renewed collaborative focus, and you'll feel more aligned as a team than ever before.
Vision Building™

The Vision Building process takes place over two separate days in which we work through the core questions that make up your organization's vision. When the Vision Building process is complete you will be crystal clear on the kind of organization you need to be to achieve your mission, who you can best serve, and how you will steward your limited resources to make that happen.
Quarterly Meeting & Annual Planning Sessions

A quarterly session allows your team to reflect and grow from the previous quarter, learn new EOS tools, solve issues, and prepare for the quarter ahead.  You will leave refocused and realigned, confident in what needs to happen in the upcoming quarter and in how you'll make it happen.

The two-day annual planning session is a powerful time of growing the strength of your team, learning from the previous year, and preparing for the year to come.  At the conclusion of the annual, your team will be unified regarding the priorities of the upcoming year, how those priorities support your broader vision, and ready to work together to make them happen.
You're busy, probably burned out, and perhaps even under your desk right now. Let's start small: schedule a no-fuss, no-obligation 11-minute phone call with us to learn how EOS can transform your organization.
Let's do this, together.